Gaming Booths & Gaming Sound Isolation Enclosures
Gaming is a multi billion pound industry which now generates more revenue that cinema or the film industry. You would think that guys have enough time to do some gaming at home during there spare time but a new concept has hit the UK from China - there called gaming booths.
Installed in shopping centres the new gaming sound isolation enclosures are keeping men occupied whilst their wives or girlfriends go shopping. Also know as boyfriend or husband hatches the booths offer a place where people can paly games whilst their other halves browse the shops. The game booths have enough space for one or two people to sit and play.
Many bars are student areas are now installing game booths to satisfy the growing trend of gaming. Some are s busy that you have to book in advance to get a specific time slot. Some bars host weekly tournaments (with prizes!) which are free to enter as long as you buy a drink or some food.
Visit Our UK Showroom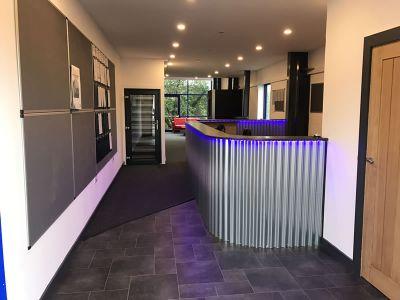 Visiting our showrooms is a fantastic way to see at first hand the high quality of our gaming booths and gaming sound isolation enclosures.
Our purpose built showroom is located in Ripon, North Yorkshire. Apart from seeing our sound isolation products close up it really is a unique opportunity to discuss your requirements face to face and experience a sound reduction demonstration.
We can show you specific decibel (db) readings of both inside and outside our different sound booths.
A Few Of Our Clients