YouTube Booths & YouTube Sound Isolation Enclosures
If you are not already aware, a YouTuber or YouTube content creator, is a type of videographer who produces video content for the very popular video-sharing platform YouTube. There are many YouTube celebrities who can earn millions of pounds per annum from product placement in their video clips and from subscribers to their YouTube channel.
If you are a YouTuber or would like to get into the industry, KUBE`s dedicated YouTube booths are an essential requirement for you to perform your art. KUBE have supplied many YouTubers with a sound isolation enclosure for them to produce their professional video content. YouTube does not have a feature to record videos, so it is essential you use YouTube sound isolation enclosures to record your videos before uploading to YouTube. YouTubers have become an important source of information and entertainment for the millennial-generation. Influential YouTubers are frequently described as microcelebrities and some have massive followings.
Visit Our UK Showroom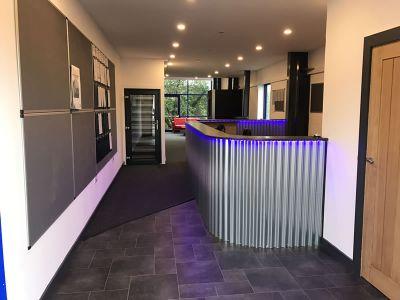 Visiting our showrooms is a fantastic way to see at first hand the high quality of our YouTube booths and YouTube sound isolation enclosures.
Our purpose built showroom is located in Ripon, North Yorkshire. Apart from seeing our sound isolation products close up it really is a unique opportunity to discuss your requirements face to face and experience a sound reduction demonstration.
We can show you specific decibel (db) readings of both inside and outside our different sound booths.
A Few Of Our Clients