Acoustic Wall Panels
The KUBE acoustic wall panel range are commonly used in recording studios, conference rooms and other spaces where sound quality is critical.
Acoustic wall panels are specialized products designed to improve the acoustics and aesthetics of interior spaces. Acoustic wall panels are commonly used in recording studios, conference rooms and other spaces where sound quality is critical.
Decorative wall panels are used to enhance the aesthetics of interior spaces while providing some level of sound absorption. They come in a variety of materials, colors, and designs to match different interior styles and can be used to create a focal point in a room or to add texture and depth to walls.
Select your size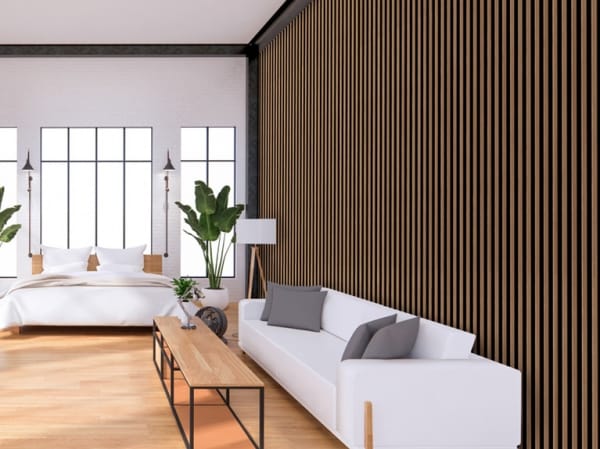 Product Information
Antique Oak Slatted
0.6m x 2.4m
£95.00
£19.00
£114.00
Technical Information
Panel Specifications
Length: 2.4m
Width: 600mm
Thickness: 21mm
Coverage per Board: 1.44sq/m
Weight per Board (approx.): 12.5kg
Colour:
Antique Oak - Uniform Colouring - Look of Stained Oak
Quick & Easy to Install: Slatted Panelling is easy to install and quickly transforms any indoor space. Each acoustic wall panel can easily be adapted to suit your space using a hand saw or circular saw. A utility knife can be used to cut through the felt base, where required. All panels can be secured onto interior walls using nails, screws, or wall grab adhesive. Panels can be installed either horizontally or vertically to create a bespoke look to any existing wall.
Easy to Clean: Simply clean with a damp cloth , or use a vacuum cleaner with a soft nozzle attachment to clean between the slats.

Approx. Delivery: 10-12 Days

Gallery
Specifications
Our Acoustic Slatted Wall Panels are manufactured from wood-veneered black through MDF and feature an authentic woodgrain surface. The decorative slats are secured onto a recycled PET backing that provides a lightweight yet durable interior finish. All our acoustic wall panels reduce room reverberation and sound levels from room to room. An acoustic solution which completely transforms any space, from recording studios & isolation booths to offices and any room at home. Each Panel measures 2.4m long by 600mm wide and are available in four colours.
Acoustic wall panels are made from two types of materials - a 9mm thick, high quality acoustic PET felt backing, clad with a 12mm black through MDF, finished with an oak veneer layer.

PET Felt:
A type of felt material that is made from PET (polyethylene terephthalate) fibres. It is often used in various applications such as interior design, acoustic panels, insulation, and more.
Material Composition: PET felt is made from recycled PET plastic bottles. The bottles are cleaned, sterilized, and then processed into fibres that are then compacted and processed to create the felt material.
Acoustic Properties: PET felt is known for its excellent acoustic absorption properties, making it a popular choice for use in spaces where sound control is important, such as offices, conference rooms, theatres, and more.
Cutting & Shaping: PET Felt can be cut & shaped, easily using a Stanley knife.
Environmental Benefits: One of the key advantages of PET felt is its eco-friendliness, as it's made from recycled materials. It contributes to reducing waste and reusing plastics, which is important for sustainability.

Black Through Veneered MDF:
An engineered wood product that consists of a core made from Medium Density Fiberboard (MDF) with a wood veneer applied to the surface. This type of material used to achieve a specific aesthetic while maintaining the structural benefits of MDF.
The core of the product is made from Medium Density Fibreboard (MDF), which is an engineered wood composite. MDF is made from wood fibres, wax, and resin, all of which are bonded together under high pressure and temperature. MDF is known for its uniform density, smooth surface, and versatility.
Veneer: The veneer on the surface of the MDF is black in color, providing a distinct and consistent appearance. The veneer can be made from real wood or synthetic materials, such as laminate or engineered veneer.
Cutting & Shaping: Black through veneered MDF can be cut, shaped, and machined using standard woodworking tools. The smooth and uniform surface of MDF makes it relatively easy to work with.
Environmental Benefits: MDF is made from wood fibres and sawdust that are often by-products of other wood processing operations. This makes use of materials that might otherwise be considered waste. Additionally, it allows for more efficient utilization of the available timber resources. By utilizing wood scraps and residues, MDF reduces the demand for virgin timber and helps mitigate deforestation. This contributes to the conservation of forests and ecosystems.
Aesthetics:The black veneer provides a consistent and modern appearance that adds a touch of elegance to interior spaces. The choice of black colour is popular for creating a sleek and sophisticated design, adding depth and shadow gaps.

Acoustic Wall Panel Applications
"Enhance Your Space with Versatile Acoustic Slatted Wall Panels - Perfect for Offices, Homes, and More!
Looking to transform your environment with functional and stylish design solutions? Our acoustic slatted wall panels are the answer you've been searching for. These innovative panels are designed to deliver exceptional acoustic performance while adding a touch of elegance to any space.
Applications:
Office Spaces:
Create a productive and focused workspace by installing our acoustic slatted wall panels in open-plan offices, conference rooms, and collaborative areas. Say goodbye to distracting noise and hello to improved speech clarity.
Home Theatres:
Elevate your home entertainment experience with these panels that enhance sound quality in dedicated home theatres. Enjoy your favourite movies and shows in a fully immersive environment.
Commercial Interiors:
From chic restaurants to trendy boutiques, our panels complement various commercial spaces. They not only manage noise levels but also contribute to the overall ambiance and customer experience.
Educational Settings:
Improve learning environments in classrooms, lecture halls, and libraries. Our panels create quieter spaces that enhance concentration and student engagement.
Healthcare Facilities:
Promote healing and comfort in hospitals, clinics, and waiting rooms. The panels help create a peaceful atmosphere for patients and visitors alike.
Hospitality Retreats:
Whether you're designing a luxury hotel lobby or a cozy bed-and-breakfast, our panels provide a welcoming acoustic environment that makes a lasting impression on guests.
Cinemas and Theatres:
Optimize sound quality in entertainment venues with our slatted panels. Ensure clear audio for performances, movies, and events.
Conference Rooms:
These panels can improve sound quality during meetings, presentations, and video conferences by reducing echoes and reflections.
Reception Areas:
Acoustic panels in reception areas can create a welcoming ambiance while helping to manage sound reverberation.
Lecture Halls and Auditoriums:
Panels help control sound reflections in larger spaces, ensuring that lectures and presentations are clear and audible.
Living Rooms:
Panels can contribute to a quieter and more pleasant living environment by reducing noise and echoes.
Airports and Transportation Hubs:
Acoustic panels help manage noise levels in bustling public areas, creating a more comfortable atmosphere for travellers.
Libraries
: Panels can maintain a peaceful environment in libraries by controlling sound reflections and minimizing noise.
Acoustic slatted wall panels can be customized in terms of size, spacing, material, finish, and design, allowing them to seamlessly integrate into various architectural styles and interior designs. They offer both practical acoustic benefits and aesthetic enhancements to spaces, making them a popular choice in a wide range of applications.
Order Direct From The Manufacturer
At KUBE we only deal directly with the client. We do not supply our products to wholesalers or retail outlets. Supplying direct ensures we can offer you THE best quality sound isolation enclosures at the most competitive prices. Dealing directly with the manufacturer gives you many benefits including: superior product knowledge and advice, large stock range, ability to order bespoke or custom products and optional extras, superior customer services, ongoing support, extended guarantee periods and the best possible prices.
UK & Worldwide Shipping
From our production facility in the UK we manufacture and ship our products to any location in the world. We offer a fast, flexible and affordable UK and worldwide shipping service to your particular destination. As each sound isolation enclosures size is different (shipping costs are dependent upon size and weight) we will ensure that we provide you with the most economical shipping quotation. We utilise many different companies and ask them to individually quote for each shipping service. This ensures the latest competitive price which we pass directly onto you the customer.
Downloads
Choose Your Options