Glass Office Pods
A KUBE glass office pod creates a bespoke quiet space for 2 people to collaborative on work projects or business meeting. This glass fronted office pod is an affordable alternative to constructing a specific meeting area and can be placed just about anywhere in an open-plan workplace. The toughened safety glass door and panels allow plenty of natural light to enter the pod to create a comfortable working environment.
With optimised premium acoustics, members of your team will be able to work in comfort without being disturbed by colleagues or background noise. Features include: include acoustic toughened safety glass door, glass window panels, internal LED lighting, quiet air ventilation system, internal power and usb charging facility, cable port, shelf or desk.
The KUBE glass office pod features specialist sound absorption interior surfaces, multi layer acoustic panelling construction with a choice of exterior finishes to compliment any office environment. Our patented multi layer acoustic sound isolation panel construction is specifically designed for applications requiring professional sound isolation and significant sound reduction. Available in both standard and enhanced sound reduction options.
Select your size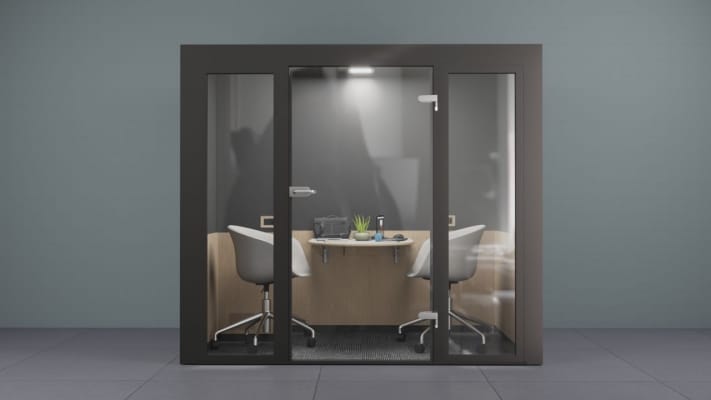 Product Information
12GMPS
2.4m x 1.2m
£7990.00
£1598.00
£9588.00
Technical Information
External Dimensions:
Width: 2400mm, Depth: 1200mm
External Height: 2060mm

Each booth includes:
1 x Slim Line LED Light Panel with Remote
1 x Ventilation System
1 x Matching Work Space Shelf
1 x Double UK Socket, USB A & C Type Socket
1 x Sealed Cable Pass
1 x Standard High Gloss Colour Choice - Black, Onyx Grey, White, Red - Bespoke Colours & Logo Engraving Available

Decibel Reductions:
Standard: 30dB Sound Reduction
Average sound reduction with white noise ranging from 200Hz-4000Hz
Average test level 90dB. A normal office environment is around 80dB
Gallery
Specifications
Each Kube Office Pod is manufactured here in North Yorkshire using only the highest quality materials, machinery, and of course, a good old pair of hands.
At Kube, we always strive to reduce our carbon footprint by sourcing materials locally where possible, sustainably and by using recycled materials where ever possible.
Your Standard Range Office is manufactured from 19mm melamine faced MDF, 18mm standard MDF, neoprene & recycled acoustic cloth carpet. Each booth includes an 8mm thick toughened glass door which is manufactured only 12 miles up the road from us, and all our fixings, hinges, & handles are made from quality steel. Our booths can be easily dismantled and moved to a new location and have been carefully designed to offer the privacy you need in an open plan office setting. Kube Office Pods are currently the only Office Pods manufactured in the UK, meaning they are also the most Eco friendly Office Pods available in the UK. A simple design, yet effective, robust and great value, in comparison to the only other options available on the UK market, commonly imported from China, Europe & the US.

Standard Vs Enhanced
Our standard office range booths & pods offer significant sound reduction and are suitable for most normal office environments. Our enhanced phone booth benefits from an additional inner wall acoustic layer lining which consists of a combination of recycled felt material and recycled dense rubber. The floor and ceiling also benefit from the additional layer and two further layers of medium density sheet material wrapped in an acoustic cloth carpet, to ensure the isolation continues through the booth. So, if your office environment is particularly busy or noisy and you require more privacy, we would highly recommend the enhanced option.
Order Your Soundproof Phone Booth Directly From The Manufacturer
KUBE is a specialist manufacturer of soundproof phone booths and specialist sound isolation enclosures and is well known in the Music, Radio and TV industry. Having identified that all alternative phone booths are manufactured overseas and imported to the UK we decided to change the landscape and offer a UK made product for UK companies! From our dedicated UK facility, we manufacture high quality soundproof phone booths using state of the art CNC and production machinery. Our phone booths are manufactured using 90% recycled materials which are sourced locally. The majority of any waste produced from our manufacturing process process are also recycled locally.
Five Year Soundproof Phone Booths Guarantee
When you buy a KUBE soundproof phone booth you can rest assured that you are covered by a comprehensive 5 Year Guarantee! Should a fault develop within the 5 Year Guarantee period, we will replace any faulty component or repair at our UK manufacturing facility. As a dedicated manufacturer you can also be confident that we keep everything in stock and any parts or options required can be sent very quickly. Here at KUBE we are committed to providing you with the very best quality phone booths, with competitive prices and customer service all backed by our unrivalled 5 Year Guarantee.
UK Showroom
Visiting our showroom is a fantastic way to see at first hand the high quality of our phone booths and sound isolation enclosures. Our showroom is located in Ripon, North Yorkshire. Come and see a KUBE soundproof phone booth close up and experience a sound reduction demonstration!
Downloads
Choose Your Options