Recording Studios
The KUBE soundproof recording studio is supplied with an acoustic double patio door leading into a control room. From the control room a specialist double soundproof door leads directly into a professionally soundproof "room within a room" live practice area.
Room Within A Room
The KUBE soundproof recording studio construction comprises of a primary outdoor room and a secondary inner room. The secondary room is built using specialist soundproof acoustic materials. The secondary room is isolated from the primary room by using sound isolation connecting components and a sound barrier mat and acoustic boards. This use of specialist soundproofing and acoustic materials in the building creates a perfect music practice area.
Select your size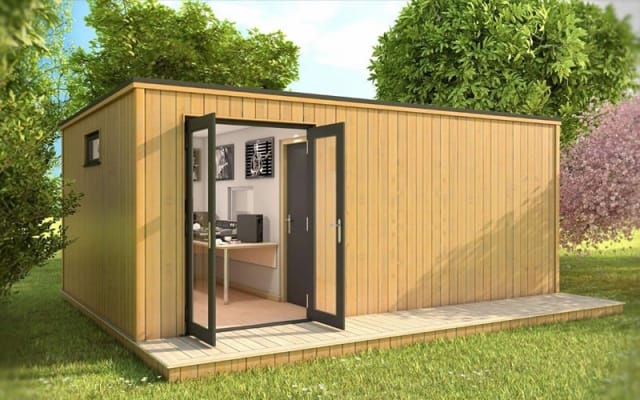 Product Information
3050RECORD
3.0m x 5.0m
£32845.00
£6569.00
£39414.00
Technical Information
Gallery
Specifications
What's Included?
Free Pre-Order Site Survey
Full on-site installation
Free UK Mainland Delivery
Fibre Cement, Composite Wood, Stone or Timber cladding *
Electrics package
Concrete & steel pile foundations
Anthracite PVCu windows and doors
Fully insulated to building regulations
A rated double glazing
Luxury plastered interior
10 year structural guarantee
High quality flooring
Fully Isolated Soundproof Room

Kube Sound Isolation: Elevating Recording Environments
Our hand crafted soundproof garden rooms cater to individuals deeply committed to achieving exceptional recording quality. Built from scratch, onsite, for you.
Within our recording studio range, each setup boasts a dedicated control room or recording area alongside a distinct "room within a room" live practice space. This design ensures a clear separation, optimising the recording process and enhancing the overall experience.
Similarly, our music room range incorporates a separate entrance lobby connected to a "room within a room" live practice area. This configuration maximizes sound control and isolation, ensuring an immersive and professional environment for musical endeavours.
Both our recording and music room ranges are engineered to deliver professional-grade sound isolation. They offer unparalleled sound control, significantly reducing noise levels in professional studios and home environments alike. Both also include a fully isolated sound proof construction, triple door entry and can be built to your exact requirements.
Embraced by professional bands, musicians, and recording artists across the UK, our soundproof garden rooms have become the hallmark of excellence in creating optimal recording conditions. Their reputation for superior sound isolation and control precedes them, making them the go-to choice for those seeking unparalleled recording environments.
Discover the difference with Kube Sound Isolation and transform your recording or musical practice sessions into exceptional experiences, where every note resonates with clarity and precision.
Downloads
Choose Your Options