Specialoffer
1: FREE LED Light. 2: FREE Sealed Cable Outlet. 3: FREE Lockable Door c\w Keys. 4: FREE Aluminium Electrical Sockets. 5: FREE Heavy Duty Floor Lining On All Orders Placed Before 30th June 2019
Outdoor Recording Studios
KUBE Outdoor Recording Studios
The Kube soundproof recording studio is supplied with an acoustic double patio door leading into a control room. From the control room a specialist double soundproof door leads directly into a professionally soundproof "room within a room" live practice area. Includes internal and external acoustic fixed glass windows. Externally clad in Western Red Cedar tongue and groove timber with cedar timber facias, wall and base profiles. The Kube Soundproof recording studio is fully insulated to Building Regulations for use all year round.
Room Within A Room
In addition to the outdoor building construction the Kube soundproof music room has the additional benefit of a secondary "room within a room" constructed inside the outdoor building. The inner room comprises of a multi-layer combination of specialist sound absorbing acoustic materials. The inner room is decoupled from the outer building structure using isolation connectors and internally lined with a sound absorbing barrier mat and a double skin of specialist acoustic plank boarding. The use of specialist materials and acoustic solutions in all the walls, floor, ceiling, doors and windows to control noise creates the perfect practice space.
Select your size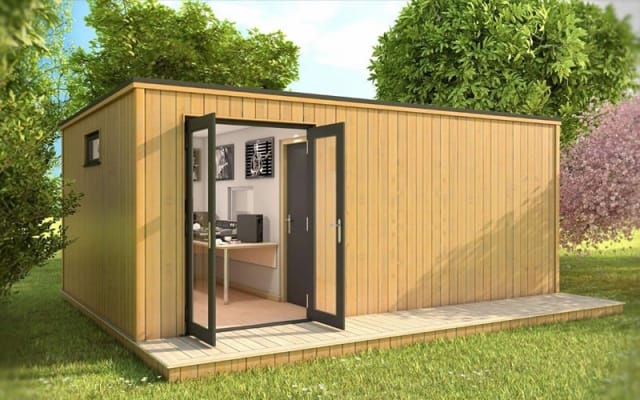 Product Information
KUBE34RECORD
3.0m x 4.0m
£19745.00
£3949.00
£23694.00
Technical Information
Our fully isolated soundproof rooms are designed for the serious and professional musicians out there and consist of a multi-layer 'room within a room' design taking noise levels of 100-110dB down to 45-50dB across the frequency range (8000Hz – 200Hz). Tested Noise Levels and Instruments: Acoustic Drum Kit – 110dB – 48dB Reduction – 62dB 400w PA System (Music) – 102dB – 45dB Reduction 57dB Electric Guitar w/ 150w Amp – 107dB – 46dB Reduction 61dB
Gallery
Specifications
UK Delivery & On Site Installation
All prices include delivery to any UK mainland address (no extra delivery charges!) and complete on site installation by professional installation teams (typically within 10 working days)
Foundations
Each Kube soundproof room is constructed onto concrete pad foundations complete with heavy duty steel piles and feet. The steel feet can be adjusted to accommodate uneven ground surfaces. The whole soundproof room is raised off the ground to allow the free flow of air underneath, eliminating any risk of condensation or rising damp.
Timber Framed Construction
We use traditional timber framed construction which allows total flexibility in the design, construction and finished product. For example you can decide the exact location of any doors and windows during construction. You can tailor the soundproof room to suit your specific needs and we offer you the ability to choose bespoke sizes.
Luxury Plastered Interior
All Kube soundproof rooms come complete with traditional plaster boarded and skimmed walls and ceiling. The inside of your room will be finished to the same high standards as a new house. A luxury professionally plastered interior gives a warm, elegant surface finish and will help with sound insulation and improved energy efficiency.
Electrical
Each soundproof garden room comes complete with a mains consumer unit, 4 x double sockets, 1 x 2 way light switch and internal ceiling light panel. All wiring is fully concealed within the timber framework. On completion of the soundproof room you will be provided with a Part P electrical certificate for the testing of all the electrical components and wiring.
Door & Window Profiles, Glazing & Locks
The PVCu doors and windows are supplied with anthracite (dark grey) profiles on the outside with white profiles on the inside. All glazing units are A rated tinted Planitherm argon gas filled acoustic glass double glazed units complete with super warm edge spacers. Each individual aluminium reinforced PVCu door and window is fitted with insurance approved locks. We are also able to offer optional PVCu and Aluminium doors and windows in a variety of sizes and colour finishes.
Western Red Cedar External Timber Cladding
All Kube soundproof rooms are externally clad in premium Western Red Cedar. Western Red Cedar is one of most desirable external timber claddings due to its rich and variable colours, high resistance to decay, durability and natural preservatives. The rich warm brown, red and pink colours and texture of Western Red Cedar gives any building a touch of individuality. Western Red Cedar has a red/ pink/brown colour tone and adds an additional aesthetical aspect to the soundproof garden room. Western Red Cedar has a minimum life expectancy of 40+ years.
Roof Construction
145mm (5.7 inch) thick five layer roof section incorporating: External anthracite (dark grey) colour co-ordinated outer polyester treated skin, metal reinforced lining, Kingspan PIR rigid thermal insulation core, powder coated metal skin, plaster board and plaster skim. The state of the art highly insulated interlocking roof panels span the single pitch, with a slight fall from front to back. The roof is additionally clad with Western Red Cedar timber facias complete with anthracite (dark grey) aluminium roof edges. Black half round guttering and a down pipe to ground level is fitted to the rear of the structure.
Floor Construction
178mm (7 inch) thick eight layer floor section incorporating: C16 graded structural Tanalith e treated floor timbers, external air vent, timber latts, Knauf thermal slab insulation, internal air vent, industrial grade moisture resistant tongue and groove timber floor boarding, foam underlay, heavy duty v groove oak laminate wooden flooring and MDF pre painted skirting boards. The floor base is additionally clad with Western Red Cedar timber floor trims.
Wall Construction (Excluding Room Within A Room Construction)
160mm (6.3 inch) thick eight layer wall section incorporating: External timber cladding, timber latts, external air vent , insulated waterproof breathing membrane, C16 graded structural wall timbers, Knauf thermal slab insulation, internal air vent, plaster board and plaster skim. All the external walls are wrapped in an insulated waterproof breathing membrane. This breathing membrane acts like a one way valve and allows natural moisture to escape out of the building. In addition each soundproof garden room incorporates double air vented timber walls. This allows the building to breathe, increases u-values and prevents cold spots and condensation. The wall corners are additionally clad with Western Red Cedar timber corner trims.
Optional extras
A whole host of optional extras are available including: Timber decking (traditional and composite), additional electrical sockets, lighting and switches (standard and LED lighting), heating (slim line wall panel heater or underfloor heating), additional doors and windows, internal dividing walls and doors and much more.
Permitted Development Rules
Our soundproof rooms have been specifically designed to meet the requirements of the current planning permission permitted development rules. Our soundproof rooms comply with the 2.5m maximum height requirements. Planning permission is not normally required; however we would always advise you to discuss your proposals with the relevant local planning authority before starting work.
Guarantee
Kube soundproof rooms are constructed and designed to provide a superior insulated soundproof room for all year round and not just for summer. Your soundproof room will be a cost effective, stunning outdoor space suitable for a multitude of uses. Our zero maintenance soundproof garden rooms come with a 10 year structural guarantee. All our soundproof rooms have a minimum life span of at least 40+ years.
FREE Site Survey
We offer a FREE no obligation site survey with the options for bespoke sizes and to fully customise your soundproof room. Our friendly and experienced surveyors can help you determine which soundproof room product best suits your requirements.
Downloads
Choose Your Options